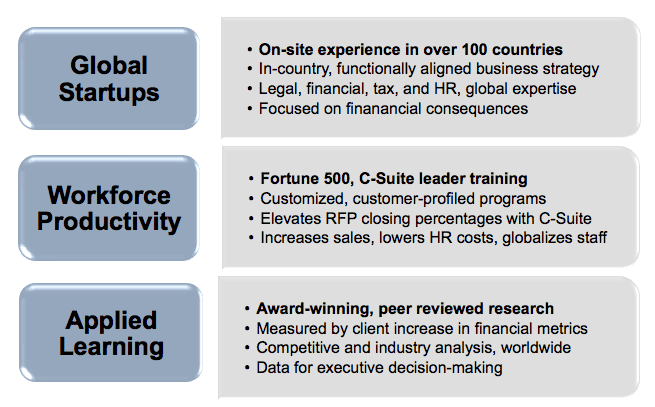 The idea for Birchtree Global was born at the Hard Rock Café, in Shanghai, China in 1998. Janet Walsh and her colleagues on a state visit to China, lamented the lack of independent global, business advisory services. A year later, in 1999 Birchtree Global was launched to help businesses expand overseas. From our beginning in Atlanta, GA, we have expanded our operations to include an Eastern office in Bedford Hills, NY, and a Western office in Denver, CO. Birchtree's global legal, tax, financial, staffing, executive search, and payroll in-network partners are located in all primary and secondary world cities. They provide favorable in-network services for our clients around the world. Birchtree Global clients work directly with experienced, corporate executives who have the financial and operational experience businesses need to grow profitably. Birchtree Global increases the financial and operational performance of clients by establishing them in new markets, increasing workforce productivity, and providing specialized research. Our clients outperform their competitors by delivering superior results for their customers. But, most importantly, our clients are treated with care, respect, and given exceptional service.
Fast moving, growth-focused clients in our Global Startup Division have profitably expanded their global footprint into more than 100 countries. Our integrated, corporate perspective, quickly and competitively translates each client's legal, financial, human resources, and tax strategy into new, overseas business. With experience in virtually every commercial market, we avoid typical consequences of non-integrated global expansion such as unintended permanent establishments, poor tax advantage, excessive personnel and expatriate costs, high financial risk, and legislative non-compliance. This expertise is particularly valuable for businesses with little global expertise. Our work with private equity, technology, medical, energy, services, retail, and manufacturing industries provides unique insights and fast-tracks client speed to market.
Our Financial Productivity Division's Fortune 500, C-Suite executives provide industry specific insights into business decision-making. Specialized case studies taught by customer-profiled, senior executives mean participants receive feedback from similar businesses executives to whom they are trying to connect. This feedback enables sales, relationship, and HR professionals get a better "seat at the table" by improving analytical and quantitative skills in predictive business metrics, finance, and corporate management. For managers new to the global market, we elevate their global knowledge, skills, and strategic capabilities. Large multinationals such as ADP and UPS, have used these programs to illustrate their value proposition, in metric terms, to their demanding clients.
Birchtree Global's Applied Learning Division provides thought leadership and research to the business community. This information is used by business executives to make market entry decisions, to understand globalization, economic trends, and increase financial performance.   Our multi-year, research on "Success Characteristics in Cuba Market Entry" and "Linking Theory" of financial performance have won multiple awards. Birchtree's research is also used to develop cutting-edge global, business, and HR curriculums in colleges and universities. In the last few years, Birchtree executives presented at more than 50 professional and peer-reviewed conferences around the world. Organizations such as Mountain States Employer's Council, Keller Graduate School, Forum for Expatriate Management, World Trade Center Association, Society for Human Resources Management are some of the organizations with whom we have worked.
All three divisions measure success by our client's financial performance. Whether clients are expanding overseas, improving organizational productivity, or seeking to leverage new knowledge, we provide the services to increase competitiveness in domestic and global markets.
Birchtree is Proud to Service the Following Clients:
ADP
A4A Mobile
Abound Solar
Alcatel-Lucent
Alico
Allison Transmission
Andrews Technologies
Arinso International
Aspen Pharma
AVA Solar
Blossman Gas
Blue Sky
BP
Brady Ware
Business TV Channel
Caridian BCT
CH2M Hill
China Venture Finance
City of Fort Collins
Clear
Coca Cola Company
Coors
CP Kelco Corporation
Crocs
Curves
Dartmouth Club
Dell
Deloitte Touche
Delta Air Lines
Desert Plastics, LLC
Devry University
Dogwood Festival
Doosan
DTRI
Econergy
EMS Technologies
Ernst and Young
Evergreen Packaging
Gross Duke Nelson
Harborent
Howden
Intelsat
IQ Navigator
ISP Corporation
Jenny Craig
JM Huber Corporation
Just Right Surgical
Keller Graduate School
Kenyon International
Koopman International
L'Oreal
Lectra
Lerch Bates
LioChem
Local Matters
MARC-Munich Re Group
Maxis Medical
Med Sim
Michelin
Microtech MD
Molnlycke Health Care
MSEC
MedSim
MTI
MuRata
Newmont Mining
Pearl DC
Pelco
Perfect Health Insurance UK
Price Waterhouse Global
Prudential
Radix Technologies
Raytheon
Robert Piguet
Rock River
RTD Denver
SecureWorks
SHRM
Skinit
Southwest Windpower
Telkom Caribe
The Linc Group
The RIDE
The Wilson Agency
TIAA CREF
Topcon
Totally Expat
Trackabout
Transnetyx
TriNet
Traxys
UPS
Zodiac Aerospace