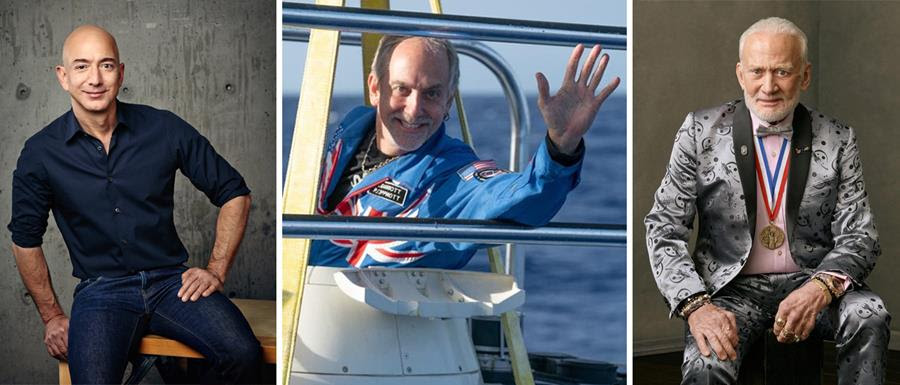 (Press release from the Explorers Club)
We are proud to announce that Richard Garriott LM'98 has been elected as the Club's 45th President. Jeff Bezos MN'14 has been named our Honorary Chairman, and Buzz Aldrin MED'76 has been named Honorary President.
"There have been so many hardships this year, with expeditions being canceled or delayed. Now, with many of us returning into the field, it is humbling to be selected to serve as the next president of the prestigious Explorers Club," said Richard Garriott, President of the Club. "The pursuit of exploration and the unknown has inspired me since I was a young child. I am happy and excited to lead the Club into the future. Under Richard Wiese's guidance, the Club worked hard to expand our members and to reach new, younger and also more diverse explorers and scientists. We will continue these efforts to attract and empower new and current members who will take exploration into the next generation. I know having Jeff Bezos as our Honorary Chair, and Buzz Aldrin as Honorary President will help accomplish this goal!"
"We live in an era of dynamism and growth, and it's up to us to pass that along to our grandchildren and their grandchildren," said Jeff Bezos, CEO and Founder of Amazon, and Founder of Blue Origin. "The innovations, discoveries and optimism shared by the members of The Explorers Club are inspiring future generations to solve some of Earth's greatest challenges, and I'm honored to be a part of it."
The Bezos Expeditions Apollo F-1 Engine Search and Recovery Team was awarded the Club's Citation of Merit in 2014, for successfully locating and recovering the F-1 rocket engines that were used to propel the Saturn V rockets into orbit during NASA's Apollo missions in the 1960s and 1970s – including the center Rocketdyne F-1 engine that launched the historic Apollo 11 spacecraft which carried Aldrin to the moon. Bezos was later awarded the Club's Buzz Aldrin Space Exploration Award in 2018 for his work with Blue Origin.
"I have always loved The Explorers Club and I am thrilled and honored to accept this position," said Buzz Aldrin, Lunar Module Pilot for Apollo 11. Well-known as the second man to walk on the moon, for which he was awarded The Explorers Club Medal alongside Neil Armstrong and Michael Collins on behalf of NASA in 1971 – Buzz is also a former aerospace engineer and fighter pilot, selected as part of Astronaut Group 3 in 1963, and piloting Gemini 12 in 1966, on which he preformed 3 EVAs.
Garriott follows Richard Wiese as the Club's President. Bezos is succeeding Kathy Sullivan as Honorary Chair, and Aldrin is following Bertrand Piccard as Honorary President. We'd like to extend sincere thanks to Richard, Kathy, and Bertrand for their incredible service to the Club.