Birchtree Global has changed the date of the Atlanta BGIAP program from October 19 to January 16, 2019 out of respect for the program participants and presenters living in North and South Carolina that have been affected by Hurricane Florence.  We have made donations in their name to the Red Cross and the ASPCA.  We know many people have been affected by the storm and hope other businesses will consider donating or volunteering to help with the rebuilding efforts.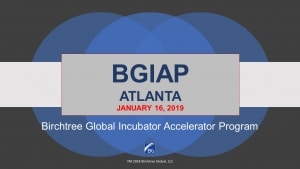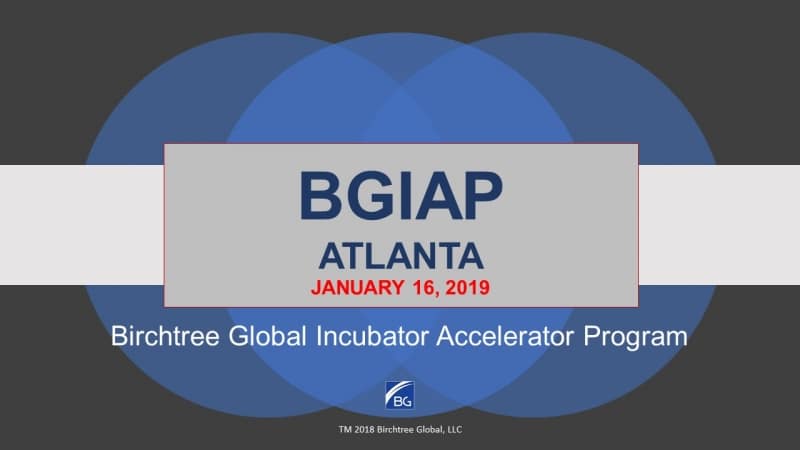 BGIAP is a comprehensive, 4-week, online/in-class program for business executives to accelerate knowledge of global market entry.   BGIAP allows participants and teams to acquire the strategic and operational knowledge needed to make successful financial and fiduciary decisions.
A world-class team of business experts guide participants through the strategic challenges, paperwork, infrastructure, regulations, and functional knowledge needed to establish a business overseas.  Faculty include C-Suite global executives from Fortune 500-Unisys, IBM, Walmart, Korn Ferry, Mead Westvaco, Exxon, and INC 500 firms.  All faculty in this program have direct, corporate experience, "on the ground" setting up businesses in more than 100 countries.  Supporting information and documentation is provided by highly regarded firms including Taylor English, Dezan Shira, Osborne Clarke, Brady Ware, the World Trade Center Atlanta, Atlanta Bi-Lateral Chamber and Consular Corps Members, DF Brown, HR Dimensions, Living Abroad, and Squire Patton Boggs among others.
The program includes:
* 3 hours private consulting services with global law, tax, HR, or functional specialist firm
* Customized global market entry workbook with country specific information
* 20 specific market entry modules critical to strategy and operations of a global business
* Customized personal coaching from global market entry, C-Suite executives
* Documentation and paperwork required for specific country market entry as requested
For more information visit www.birchtreeglobal.com, for a copy of the curriculum contact us at information@birchtreeglobal.com, or by phone at: (01) 770-361-8285.